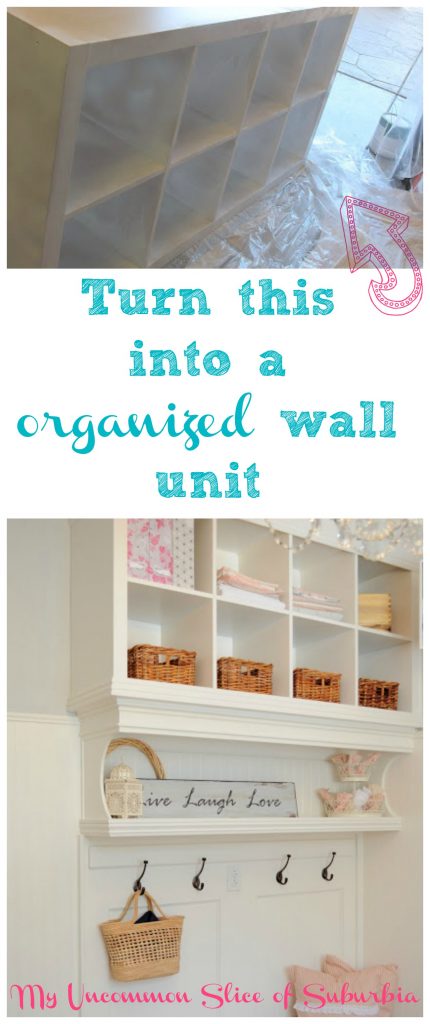 So let's start with the finished product and for those of you that are interested,

I'll have a picture tutorial after all the fluffy pictures.Warning: Lots of pictures!
The wall before
Something tells me this will be the only time the baskets aren't filled with junk
So, what is left?

Take the wheels off and attach the bench to the wall.
How we painted the bookshelves:
Oil based primer
Swiss Coffee semi gloss paint
If you see any gaps or dings fill them with wood filler.
Degrease everything, Tsp is a great degreaser as is vinegar and hot water.
Sand everything I used an electric sander with medium grit (80 or 100).
Prime with an oil based primer. Foam rollers will give you the look as though your cabinets have been sprayed.
Lightly sand
Caulk away, it will hide all imperfections.
Paint your desired color using a foam roller or spray them.

NOTE: Latex paint will adhere perfectly to oil based primer. Latex primer over oil paint will not work at all.
Let it dry, buff out any drips and give it another coat.
Husbands handy work with scrap wood
Add the bookshelf above
We did this in the kitchen.
Lots of trim makes everything pretty!
Original article and pictures take http://myuncommonsliceofsuburbia.com/mudroom-wall-reveal/ site